Katie Feeney, an internet celebrity hailing from the United States, is a dancer, model, YouTuber, and TikTok sensation known for her exceptional dance skills. Her rise to fame can be attributed to her impressive performances on TikTok. As of November 2022, her TikTok account, @katiefeeneyy, had garnered over 7.1 million followers and more than 534.7 million likes.
Katie Feeney Early life:
Katie Feeney, born on August 16, 2002, is a popular American social media personality whose TikTok content primarily revolves around college life, lifestyle, unboxing, vlogging, and sports media. As of March 2023, she has amassed a massive following of over 7 million on TikTok, 3 million on YouTube, close to a million on Instagram, and over one million subscribers on Snapchat. Currently, she is pursuing her studies in broadcast journalism at Penn State University in Pennsylvania, and she attended Sherwood High School.
Katie Feeney Personal Life
Born on August 16, 2002, Katie Feeney grew up in Maryland as the youngest of three children in a Christian family. She has two elder siblings, Peter and Michael. In 2022, she was in a relationship with Jack Hurley, a baseball player at Virginia Tech. Before that, she had been in a long-term relationship with Sean Yamada, but the couple parted ways in early 2022. Currently, Katie is in a relationship, but the identity of her partner remains unknown.
Her education and the beginning of her career
In the autumn of 2021, Feeney joined Penn State University, pursuing her dream of becoming a broadcast journalist and launching her podcast or talk show. Her focus shifted towards producing more lifestyle-oriented content that showcases the life of a college student. She also works with the Penn State football team and other sports teams to create social media content. Additionally, Feeney has been leveraging her platform to raise funds for the school's "THON" fundraiser, which helps children battling cancer at the Health Children's Hospital at Penn State.
Katie Feeney Career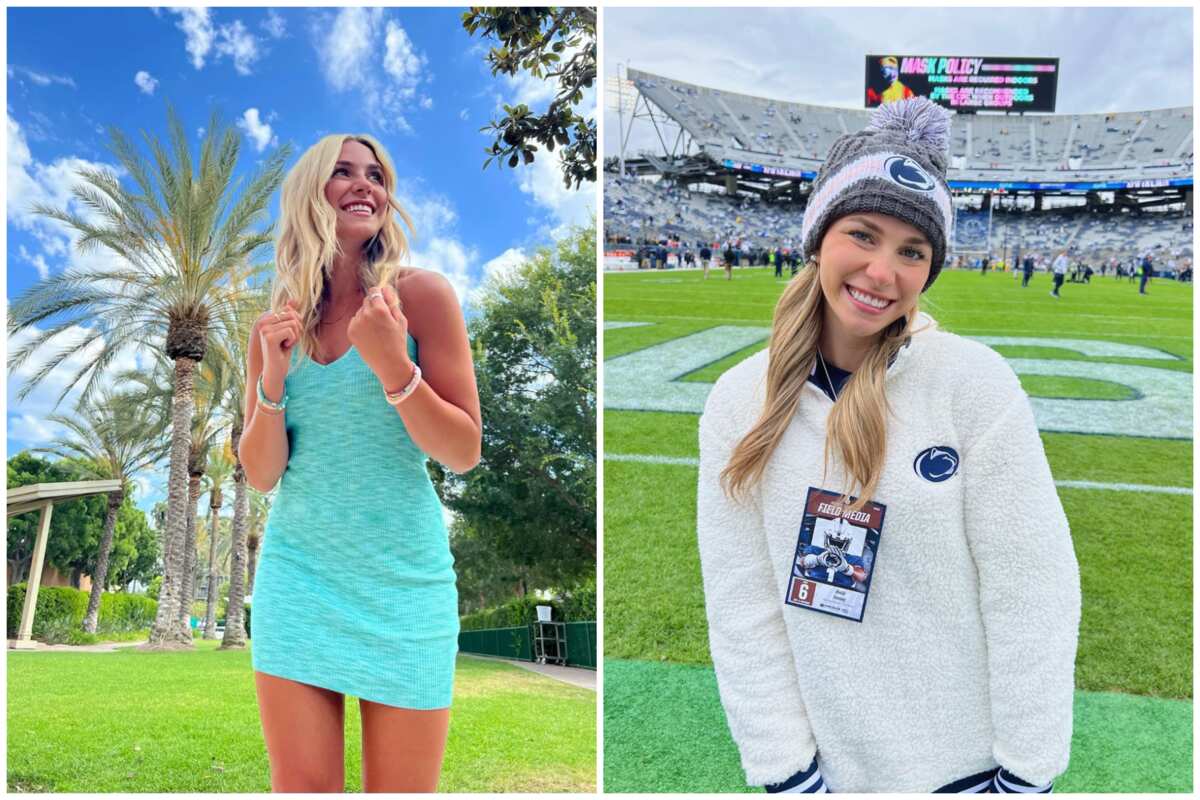 As early as 2006, when she was only four years old, Katie began her journey as a dancer, participating in competitions throughout the United States. With a solid foundation in the art form, she swiftly climbed to the top ranks of dancers and even trained with renowned dancers and sisters, Mackenzie and Maddie Ziegler.
Katie created her eponymous YouTube channel in December 2016 and regularly uploaded vlogs, dance performances, "get ready with me" videos and other real-life content. Her channel has garnered an impressive 2.96 million subscribers and over 3,000,000,000 views. However, after her recent split, Katie has removed a significant portion of her YouTube content, and as of November 2022, only five videos remain on her channel.
Katie's influence extends beyond her impressive YouTube and TikTok presence. She was chosen to be the ambassador for Dance Hope Cure, a non-profit organization that raises awareness for childhood cancer with the help of a team of high-profile dancers. Additionally, in 2022, she made history by becoming the NFL's first social media correspondent to cover the Washington Commanders' season.
In addition to her impressive accomplishments, Katie has been featured on mainstream media platforms such as Access Hollywood, People.com, and Fox 5 Live. She gained attention after her contents got viral on on TikTok. She is a popular model who has worked with various clothing, shoe, and fast fashion brands. Katie is studying journalism at Penn State University.
Katie Feeney  in White House
Feeney was recently appointed as the White House social media correspondent for AKSM Media on November 28, 2022. Her role includes covering White House events and expanding White House reporting via social media to engage a younger audience and prevent the spread of misinformation. On her first day, she provided coverage of First Lady Jill Biden's 2022 Christmas decorations at the White House, sharing content with her followers.
Katie Feeney Physical Appearance
Katie Feeney possesses stunning beauty, radiating heat and charm with her attractive personality and adorable smile. She has striking physical features, including a beautifully proportioned and slim body that accentuates her appealing body measurements. Katie Feeney is approximately 5 feet, 5 inches tall, and weighs around 55 kg. She has long, beautiful blonde hair and striking dark brown eyes.
| | |
| --- | --- |
| Full Name | Katie Feeney |
| Net Worth | $1.5 Million |
| Date of Birth | 16-Aug-02 |
| Age | 20 Years Old |
| Birth Place | Maryland, United States |
| Currently Live In | Maryland |
| Profession | TikToker, Instagrammer, YouTuber, and Social Media Personality |
| Nationality | American |
| Religion | Christian |
| Ethnicity | White American Descent |
| Hometown | Maryland |
| Zodiac Sign | Leo |
| School/High School | Local High School in Maryland, United States |
| College/University | Penn State University, Pennsylvania, United States |
| Education Qualification | Graduate |
Why is Katie Feeney famous?
Katie Feeney is a social media influencer, TikTok star, and accomplished dancer. She has gained widespread recognition for her entertaining content on TikTok, which features a diverse range of videos including dance, unboxing, DIY, and comedy. At present, she has amassed an impressive following of over 6.9 million fans and 520 million likes.
On December 26, 2016, Katie Feeney launched her eponymous YouTube channel and posted her first video, titled "FIRST DAY OF JUNIOR YEAR," on September 5, 2019. As of 2022, her channel has garnered an impressive following of nearly 2.7 million subscribers, and she has established herself as one of the most prominent short-form video creators on the platform.
With a massive following of over 925 thousand fans on Instagram, Katie Feeney is a popular figure on social media. She regularly shares snapshots of her daily life and adventures with her friends. She has a large following on these platforms, where she shares entertaining content such as dance, unboxing, DIY, and comedy videos. On YouTube, she has almost 2.7 million subscribers, and on Instagram, she has over 925 thousand followers. She also collaborates with various brands on these platforms.
Katie Feeney Public image
Katie Feeney is a popular personality on the Penn State campus, known as a "campus celebrity," and a recognizable face on the sidelines of Beaver Stadium. She has also made a name for herself in the social media industry. It is one of the reason that credited with pioneering a career. This has even helped fund her college education. Additionally, Feeney has been praised for her ability to blend short-form video content. You can find different contents of sports reporting.
Katie Feeney's net worth
Katie Feeney's estimated net worth is between $1 and $1.5 million. Her primary source of income comes from her influential presence on popular social media platforms. She is quite active on  Instagram, YouTube, and TikTok. Her earning also includes income from brand endorsements and modelling assignments. Nevertheless, she is now a star across the globe for her incredible participation in different platforms.
Katie Feeney has the potential to earn between $3.16K and $4.74K per post on TikTok, excluding brand-sponsored deals. For brand-sponsored posts on Instagram, she could earn between $2,000.00 and $4,00,00. She also earns pretty great income from YouTube. Her estimated annual earnings range from $401.6K to $6.4 million.
In 2021, Katie was selected as one of the few content creators to be a part of Snapchat's Spotlight. It helped her earn over $1 million in just two months by posting videos on the platform.
Social Media
Katie Feeney has a lot of fans on different social media sites. She has over 7.1 million followers on TikTok. Her other accounts have over 922,000 followers on Instagram and 2,933 followers on Twitter. There are over 979,000 people who subscribe to her Snapchat. You can also find over 2.96 million subscribers on her YouTube channel.
Interests and hobbies
Katie Feeney has two dogs at home, Maggie and Tess, who sometimes appear in her TikTok videos. She enjoys going on vacations and spends a significant portion of her earnings on them. Her lively, expressive, and imaginative personality has drawn a diverse audience of fans and followers to her social media profiles.
Ending note
Feeney, like many TikTok users, started sharing her videos on YouTube Shorts after it was introduced earlier this year. You can find over 800 videos on her channel since March, with a total of more than 1.2 billion views. As a result, Feeney has now achieved one million subscribers on her channel, earning her the title of "YouTube millionaire.